The decision to resign from your current job will always be a tough one. Perhaps you've been at the same company for years, and are now ready for a new challenge. Maybe things have changed in the company and it doesn't feel like home anymore…or you might just be pushing yourself towards a bigger and better marketing job.
If you have decided that you're ready to leave, the correct way to alert your employer is by preparing a short resignation letter.
What is a resignation letter?
A resignation letter explains to your employer why you will no longer be continuing with the company. It should be brief, clear and concise.
The letter should leave a positive and strong final impression – the reason for this being that you might need your employer for a reference for your next job. The tone of the letter should be courteous and professional, making sure you don't burn any bridges. Essentially, the letter should include the main reasons to co-workers, human resources and superiors about why you are leaving.
Still unsure? Read the tips below on how to write your resignation letter:
Give the right notice
The best way to get your resignation letter off to the right start is by ensuring you give the correct amount of notice for your departure. For example, if your notice period is 4 weeks, it should be exactly this amount of time, or longer that you inform your boss. Every company asks for a certain amount of notice so they can provide a smooth transition of work. Your notice period is usually documented in your contract, so if you're not sure about the length of time required, check before you organise any plans to leave.
Note: If you've been offered another  job, your future employer should expect you to honour your notice period. They wouldn't want someone else to leave them suddenly, so they shouldn't ask it of you.
Preparing your resignation letter
Before you write your letter, bullet point the reasons why you are leaving so you have a clear idea of what you would like to say. Remember, your letter doesn't need to be lengthy – a few paragraphs will suffice. You should make clear points about why you are ready to move on.
Write your letter
If this is your first time writing a resignation letter and you need a hint or two, use these points below to get the ball rolling:
Include the date of your resignation (the date you give this letter to your employer)
Avoid complaining or pointing out any grievances
Thank your employer for the opportunity/your time at the company
Keep your letter short and precise
Include any questions you would like to have clarified by your employer
Use business letter format (header with employer's name, address and date)
Below, we've included a template for you to use as an example:
8.7.2019
Amanda Burns,
38 Collinge Avenue,
Sollihull,
Birmingham
BR3 8TG,
07738295738,
Amanda.burns@gmail.com
Dear (address your manager),
First paragraph:
State the reason for your letter and the date from when your resignation is in play. This will be the date of which you give your resignation letter to your employer.
"It is with regret that I inform you of my resignation on the 8.7.2019."
Second paragraph:
This section should be where you thank your employer for the opportunities you've had while working at the company. You can also include any questions about your resignation so that your employer can clarify as much information for you as possible.
"My reasons for leaving are not black and white, but I feel that in the 6 years I have worked at XXX I have very much enjoyed my time here. I simply feel that I am better equipped for a more challenging role and would now like to pursue a job which challenged my leadership skills. I would like to thank you immensely for allowing me this opportunity. I'm truly grateful to this company for allowing me to develop and grow as an individual during my time here.
I would also like to take this opportunity to ask about my notice period – can you please confirm the time period for this, as currently I was aware that it would be 4 weeks, but regarding my six years of service I feel that may now have increased."
Final paragraph:
This is where you will conclude your resignation by offering any help with the transition etc.
"I will of course honour my resignation period, and am more than happy to help you plan a replacement in the meantime."
Sincerely/respectfully/best wishes,
Signature
Printed name
Your resignation letter doesn't need to be handwritten. It can be done on your computer and sent via email – we would recommend informing your employer first though, before doing this. It could be a shock to the system for them to receive a letter of that context via email without speaking to you first! The format should still be the same as the above, but if you do decide to send it via email, it's recommended that you still have a follow up letter ready for your employee file.
Resigning isn't easy, particularly if you've worked at the same company for a few years – but provided you're leaving for the right reasons, e.g. better company culture, more challenging role etc. it's a stepping stone towards your new job. See it as a positive, not a negative, and remember to part ways amicably.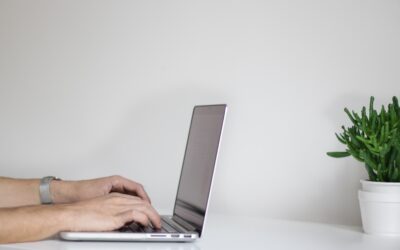 Simply Marketing Jobs and TopCV partnership Simply Marketing Jobs, the leading job board for the marketing industry, and TopCV, the world's leading CV‑writing service have partnered to support candidates in getting hired faster with a job-winning CV.  The...